On the 18.12.2019 after a 15 month developement period our new software EyeTV 4 (64-Bit) was released. We would like to thank every user for their trust and will work continiously to improve EyeTV. EyeTV 4 (64-Bit) Is currently not running without issues for everyone. Antivirus software, macOS 10.15, other "non macOS native systemtools" lead to singular Problems, which will be categorized and fixed by us eventually. We are currently working on the next major release, which is set to come out by the end of March 2020.
Here is some important, basic info regarding EyeTV 4 (64-Bit):
EyeTV 4 (64 Bit) is a standalone- & lifetime license software, which is available for purchase at an introductory price of 29,95 Euro incl. VAT.
Software Landingpage / Latest Software Builds: https://www.geniatech.eu/de/software/
EyeTV 4 (64 Bit) supports macOS 10.14 Mojave and higher..
There is no direct update from EyeTV 3 (32-Bit) to EyeTV 4 (64-Bit) . It is a separate piece of software which needs to be purchased separately.
EyeTV 3 (32-Bit) License Keys do not work with EyeTV 4 (64-Bit).
EyeTV 4 (64-Bit) while usually inherit all settings from you previous EyeTV 3 (32-Bit) installation.
We recommend that all customers register with us during installation/setup so that you can view or find their eyetv license keys at any time under https://services.geniatech.eu/
Customers who have purchased a new EyeTV 3 (32-Bit) License or a new EyeTV tuner after the 1st of November 2019 through / from Geniatech authorized resellers or directly, please contact GTEsales@geniatech.com or our customer support, with proof of purchase. An EyeTV 4 (64-Bit) License Key will be sent to these customers by E-Mail.
Incase any trouble arises during the installation or the usage of EyeTV 4 (64-Bit) we recommend using the EyeTV Reporter (64-Bit) to fully remove any old EyeTV files, that may cause trouble from your computer and reinstall EyeTV 4 (64-Bit) on this fresh, clean base. EyeTV Reporter can be found here: https://www.geniatech.eu/de/download/eyetv-reporter-64-bit/
Support & known current issues that may occur unter macOS 10.15
We are constantly trying to answer the many support requests we get each and every day, as quickly as possible. Currently, we have a rather big backlog of tickets, that we are slowly processing. Incase you have a problem with EyeTV right now, we would like to refer you to the information gathered here: It is possible that you will find your problem is all ready solved or at least categorized and a solution is being developed. In any case, we would like to thank you for your patience and hope EyeTV can help you find a bit of peace in these unsure times.
Product Information:https://www.geniatech.eu/de/produkt/eyetv-4/
Support Information:https://www.geniatech.eu/de/support/eyetv-4-de/
Exporting recordings in EyeTV 4 (64-Bit)

Exporting with EyeTV 4 (64-Bit) results in unsusable .AVI files that cannot be played. We are working on an in EyeTV 4 (64-Bit) integrated fix, but for the time being users can use Handbreak, which is a free software found here: https://Handbreak.fr), to convert the files to usable formats. Th exporting features of EyeTV 3 (32-Bit) will be once again supported with next release of EyeTV 4 (64-Bit)

Channel Sorting

Channel lists can't be sorted under certain circumstances. To fix, please restore the standard sequence. After this, you can sort once again by your preference.

Editing Recordings

The cutting tool of EyeTV 4's editor is not working correctly, but will be fixed in the next release of Eye TV 4 (64-Bit)

EyeTV Remote

The EyeTV Remote is currently not supported, but will be by the next release.

Eyetv 4 (64-Bit) macOS 10.15 (Catalina) Security & Privacy settings

These settings are required to ensure that EyeTV 4 (64-Bit) will work correctly: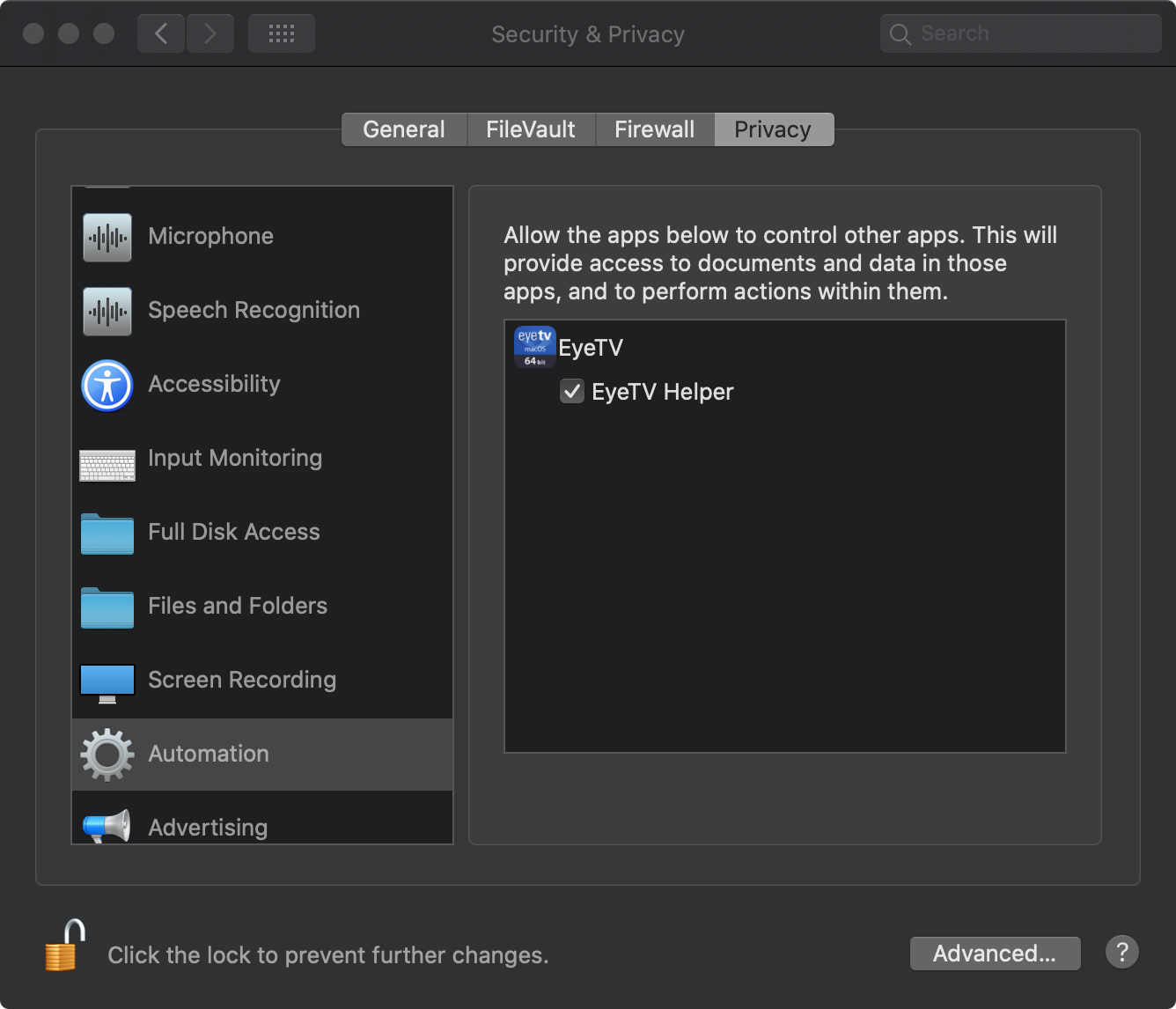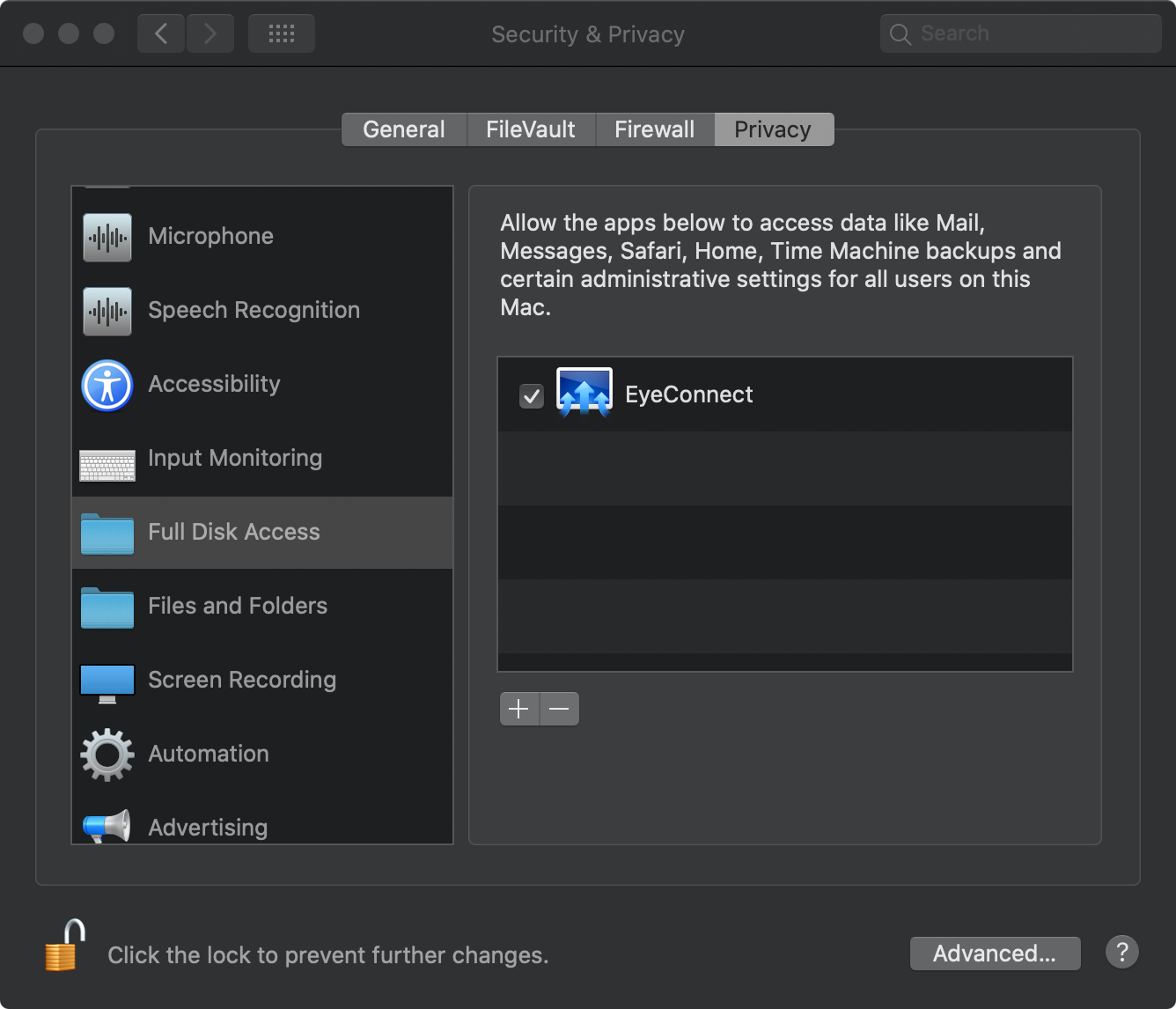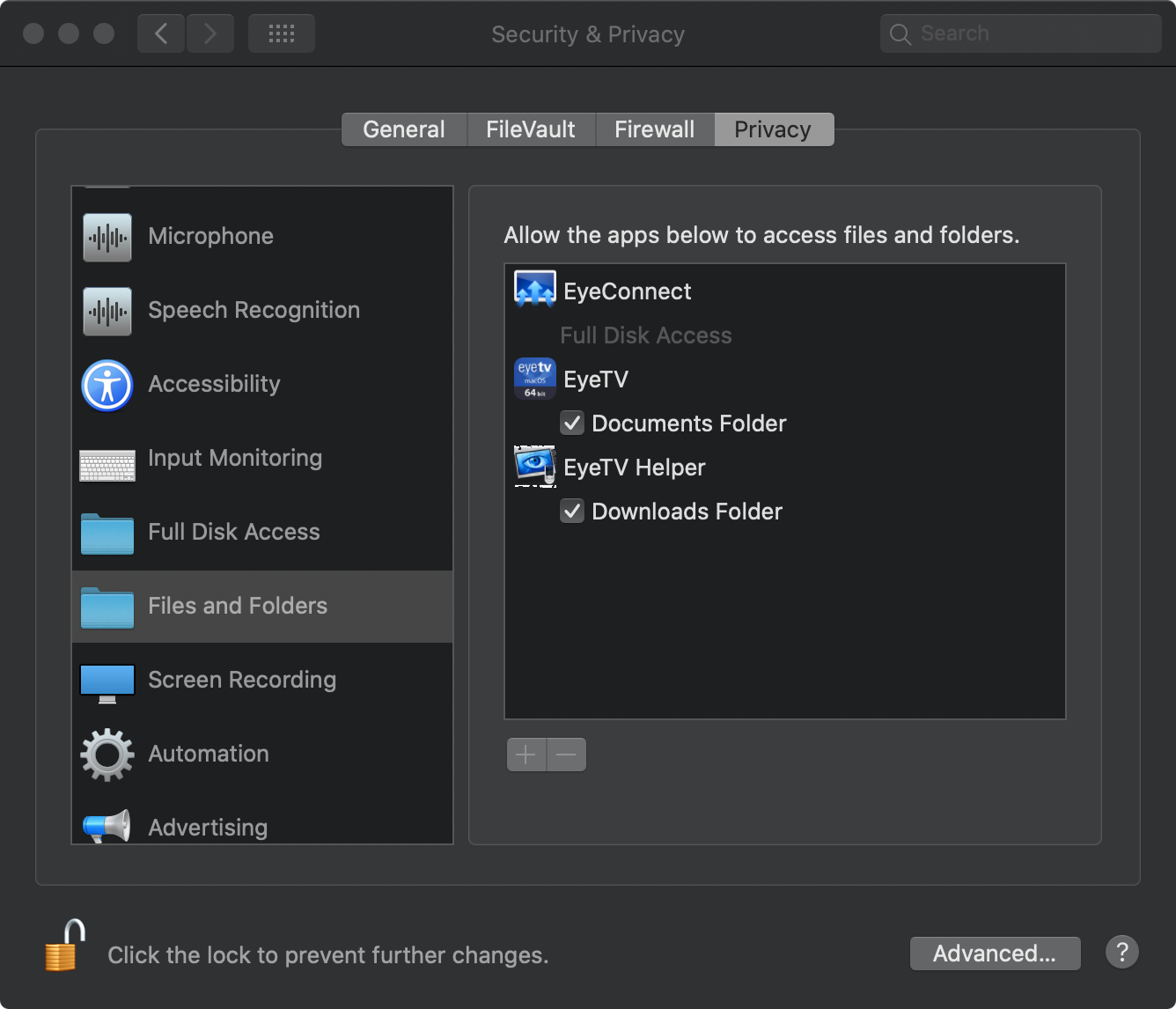 One more thing: In the face of the recent Covid-19 outbreak, which has also reached our region by now, all our processes are of course being slowed down in the name of more strict measures in the name of our health and safety. Most of us are working from home by now and we hope that you are able to ensure you own safety.
Stay safe and enjoy EyeTV,
Your Geniatech Support Team